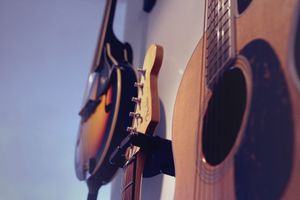 Riverview Sound
The studio at Riverview Sound is a professional space in the comfort of a Victorian-style home, built in the early 1900s as Waltham rose to fame as Watch City. Conveniently tucked on the Charles River, Riverview Sound is minutes from Boston and Cambridge, with convenient access to public transportation. The studio at Riverview is owned and operated by producer Sam Margolis, and combines Analog with Digital components, creating a sonic palette suitable for a diverse set of projects and genres. The natural setting against conservation land creates a productive and inspiring working environment. 
Please contact Sam for more details and a full gear list.
Nine Athens Music has proudly partnered with Riverview Sound and Sam Margolis to create all sorts of great projects, from full studio albums with Nine Athens sponsored artists like Pumpkin Bread, Eric McDonald and the Meadows Brothers, to private house concerts.